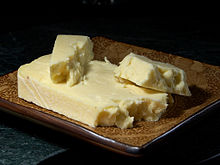 Wensleydale is a cheese produced in Wensleydale, North Yorkshire, England.
Flavor and TextureEdit
Good Wensleydale has a supple, crumbly, moist texture and resembles a young Caerphilly. The flavour suggests wild honey balanced with fresh acidity.
Wensleydale cheese was first made by French Cistercian monks from the Roquefort region, who had settled in Wensleydale. They built a monastery at Fors, but some years later the monks moved to Jervaulx in Lower Wensleydale. They brought with them a recipe for making cheese from sheep's milk. During the 14th century cows' milk began to be used instead, and the character of the cheese began to change. A little ewes' milk was still mixed in since it gave a more open texture, and allowed the development of the blue mould. At that time, Wensleydale was almost always blue with the white variety almost unknown. Nowadays, the opposite is true, with blue Wensleydale rarely seen. When the monastery was dissolved in 1540 the local farmers continued making the cheese right up until the Second World War, during which most milk in the country was used for the making of "Government Cheddar". Even after rationing ceased in 1954, cheese making did not return to pre-war levels.
Wensleydale CreameryEdit
Wensleydale Creamery in the town of Hawes has been hand-making cheese for more than 100 years. In May 1992, Dairy Crest, a subsidiary of the Milk Marketing Board, closed the Hawes creamery with the loss of 59 jobs. This was the last creamery in the dale. Dairy Crest transferred production of Wensleydale cheese to Yorkshire's traditional rival, Lancashire. Six months later, in November 1992, following many offers to rescue the Creamery, a management buyout took place, led by local businessman John Gibson and the management team. With the help of eleven members of the former workforce, cheese making recommenced in Wensleydale. It now employs 190 locals and buys from 36 farms located in Wensleydale.
There are several main types of cheese in the range produced by the Wensleydale Creamery. 
Real Yorkshire Wenslevdale is usually shaped in a variety of weight moulds ranging in size from a small flat disc known as a "truckle" that is highly pressed and preserved in wax, to several larger cheeses—it is a mild cheese with an acidic, honeyed flavour.
Mature Wensleydale is a harder, more highly-flavoured version of the Real Yorkshire Wensleydale.
Extra Mature Wensleydale the strongest Wensleydale cheese, matured for nine months.
Blue Wensleydale has blue veins and is produced in range of sizes. It is highly flavoured but less salty than the classic British blue Stilton.
Oak Smoked Wensleydale is cold smoked to produce a cheese with a special tang and texture.
Wensleydale Dairy Products is looking to protect the name Yorkshire Wensleydale Cheese under a submission for Protected designation of origin.